Valves with vacuum heaters
L-type vacuum bellows heated valves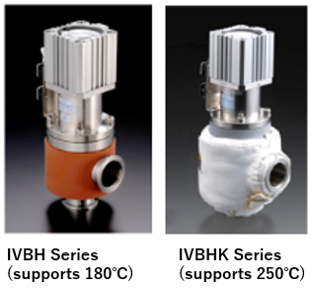 L-type vacuum bellows heated valves are vacuum valves with an embedded spiral heater following bellows movement, heating the valve body and bellows. Heating from within the bellows eliminates cold spots and enables reduced adhesion of generated material.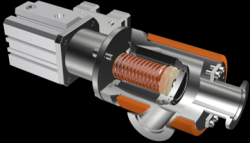 The structure enables heating from within the valve, previously impossible with conventional products. Therefore, reaction byproduct adhesion is dramatically reduced, sharply extending maintenance periods and preventing particle reverse expansion.

Bellows internal heater (patented) and external heater temperature can be individually set.

The internal heater can be operated integrally with the valve body, heating both the valve body and the bellows at once whether the valve is open or closed.

Ideal for processes such as metal etching, CVD, and ALD.

Supports flanges including ISO-KF, JIS-VF, ConFlat rotating flanges, ISO-MF, and so on.

A connector can be mounted on the heater and thermocouple cable as well.
For details, see the product catalog. Access is also available via the button below.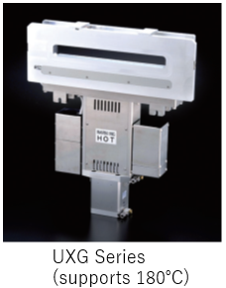 The UXG and LG Series include square gate valves developed for partitions between semiconductor vacuum equipment reactors and transfer chambers. With internal heaters equipped in the body and interior, they are characterized by high thermal uniformity, enabling temperature setting as required up to 180°C.
These non-sliding HOT gate valves have an internal heater and gate heating structure.

The body and valve body can be heated up to 180°C, making them optimal for high-temperature processes such as metal CVD equipment. Temperature control is handled through separate channels for the body and valve body, enabling individual setting.

The bellows seal method is used to enhance durability when heated.

Periodic maintenance achieves a mechanism durability life of 1 million cycles.

O-ring materials available include fluorine rubber and Kalrez manufactured by DuPont.* Other O-ring materials are also available; consult us as needed.

In emergencies such as cutoff drive air, a latch-lock mechanism keeps the valve closed.
For details, see the product catalog. Access is also available via the button below.
Vacuum flange HOT ball valves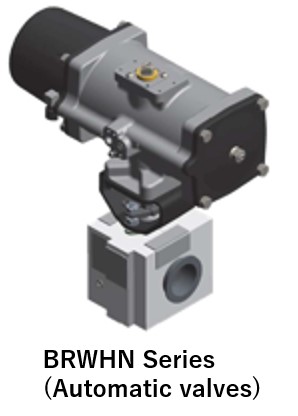 These ball valves have a full-bore structure and heater, effectively suppressing the accumulation of byproducts which can cause trouble in MOCVD equipment in chemical compound semiconductor manufacturing processes, abatement systems in solar cell and FPD manufacturing processes, and so on.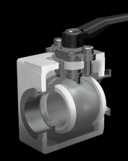 The full-bore structure has high conductance and effectively suppresses the accumulation of byproducts, suited to exhaust lines for CVD equipment, etc.

The ball seat uses Hypatite PTFE with excellent durability and heat resistance, enabling use up to a maximum fluid temperature of 200°C.

Disassembly, cleaning, and packing replacement are possible.

The heater temperature can be set up to 200°C.
Size

Manual: 15A/25A/40A/50A/65A/100A
Automatic: 25A/40A/50A

Operation type

Manual, automatic (NC)

Heater voltage

Can be set as required

Sealing material

Shaft seal packing: PTFE
Ball packing: Hypatite PTFE
O-ring: High heat-resistance FKM

Temperature specifications

Set temperature: 200°C
Contact our sales personnel for details. Inquiries can also be made via the button below.