Valves for material containers
Diaphragm valves for material containers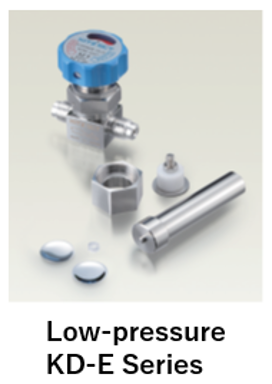 The KD-E Series (replaceable seat valves) includes diaphragm valves realizing low running costs with a structure enabling replacement of the seat and diaphragm, based on the KD Series.
They are ideal as valves for material containers connected with welding.
Low dead volume for excellent replacement characteristics
Compared to our WD Series, the valve interior flow path area has been reduced to 1/4. With the accumulation part minimized, purging can be done efficiently.
As the seat and diaphragm are replaceable, the body and drive parts can be reused. Ideal for applications such as material containers where valves are frequently replaced and washed.
Easy seat and diaphragm replacement
The use of a dedicated replacement tool set enables simple, accurate seat and diaphragm replacement.
For details, see the product catalog. Access is also available via the button below.
Diaphragm valves for liquid gas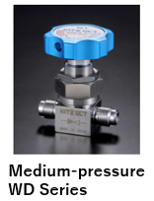 The WD Series includes valves with the high performance characteristics of diaphragm valves which support high purity liquid materials such as TEOS.
Replacement by the user is possible while maintaining the valve basic properties, particle performance, and purge properties.
As sealing valves for material containers requiring periodic cleaning, these valves effectively improve maintenance performance and reduce running costs.
Reduction of accumulation points in the flow path
With the valve seat mounted on the diaphragm side, there are fewer level changes and sharp points enabling accumulation within the valve body, making cleaning easier.
Ideal for materials not suited to nickel
The diaphragm uses stainless steel, ideal for materials not suited to nickel.
Reduced seal damage risks
The exterior seal part uses a stainless steel packing, reducing seal part damage risks.
For details, see the product catalog. Access is also available via the button below.
Block valves for material containers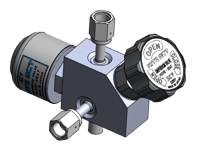 Heating mechanism options such as cartridge heaters are also available. The diaphragm and seat can be replaced.