Block valves for vacuum exhaust lines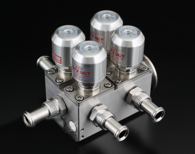 Exhaust block valves (branch modules) are products which integrate 1/4" and 1/2" size valves, used in vacuum exhaust venting for deposition equipment, etc., to minimize footprints and improve maintainability, as well as reducing byproduct accumulation and shortening equipment downtime through a stable heating mechanism using a bolt-on heater.
Exhaust block valves use a simple design combining a flat-mounted valve and a monoblock flow path body, with characteristics helpful for equipment layout design and operators in the field.
Integrated blocking enables major layout downsizing.
Valve disassembly, cleaning, and replacement are possible.* As well, the use of a bolt-on structure heater makes mounting and removal easier.
Integration reduces connecting piping and heater temperature control systems, decreasing initial costs. Running costs can be reduced thanks to replacement at the part level.
The use of a bolt-on structure heater realizes reproducible, stable temperature control performance, doing away with installation errors as well.